Papa Bill's White River Trout Guide Service

706 Betty Jean Ave
Bull Shoals, AR 72619
479-477-0334 Office
papabillsguideservice@hotmail.com
www.papabillstroutguideservice.com
Papa Bill's offers the complete package Family Fishing Guide Service on the freshwater White River in the Ozarks of Northern Arkansas. Everything you need to enjoy a exciting and scenic trout fishing adventure. Great for kids, boats have seating for up to three persons. Groups or large parties can fish together with our select group of professional guides, each guide offering their own boat. Guaranteed to have a good time!
Half-day trip for two is $175.00, $50.00 for a third person, add $50 for Fish Fry Shore Lunch
Full day trip for two is $275.00, $50.00 for a third person, add $50 for Fish Fry Shore Lunch
Prices for Out of State License:
3-Day $11.00
7-Day $17.00
14-Day $22.00
Trout stamp $12.00
Wishes & Fishes Fly Shop
627 Central Blvd
Mailing to PO Box 751
Bull Shoals, Ar 72619-0751
Shop # 870-445-3848
Cell # 870-404-8906 Fishing
http://theflyfishing-store.com
http://flyfisharkansas.com
White River Troutfitters
White River Troutfitters is a complete White River guide service.  Owner Duane Bell and guide staff are experienced and knowledgeable of the White River conditions, fishing patterns and tactics based on projected dam generation, weather, and current hatches.  Our boats are a top of the line Supreme Jet boat and a Hyde Rocky Mountain Skiff Drift boat, allowing us to fish all water conditions from minimum flow to full on plus the flood gates. Fly Fishing and Spincast.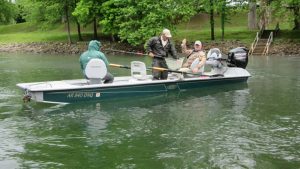 590 Rivercliff Drive
Bull Shoals, Arkansas
(870) 445-3211
http://whiterivertroutfitters.com