Thank you  for inquiring about our area as you plan your next trip.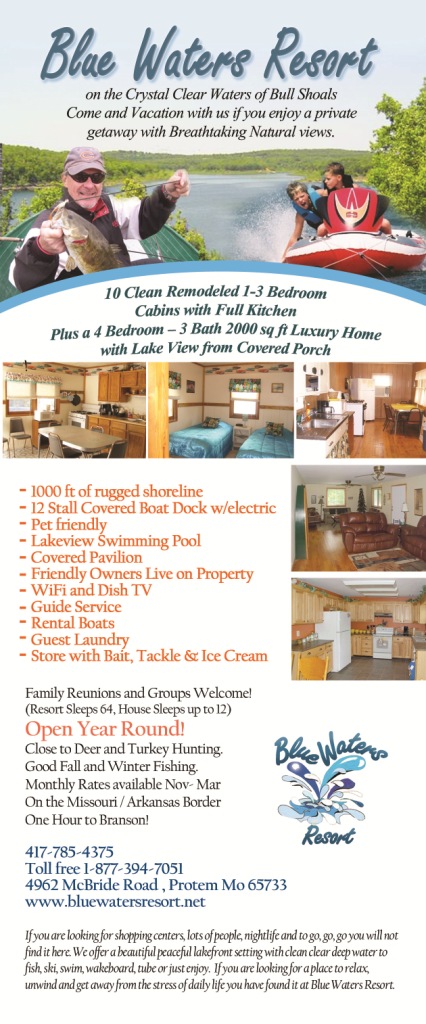 We invite you to relax, enjoy our secluded scenic surroundings in the Ozark Mountain Region  Feel your stress melt away when you vacation with us.We are a family owned Resort on the mid-section of Bull Shoals Lake by Buck Creek and the free Peel Ferry, perfect for vacations, family reunions or getting together with friends.  We have  restaurants nearby!
Only 1 hour from Branson.
•  10 Clean Cabins 1 – 3 Bedrooms with Full Kitchens
Private  4 Bedroom – 3 Bathroom  Lakeview Home Covered Porch Large enough for 2 or more Families to Share.•   12 Stall lighted dock with electric and fish cleaning station•    Rental Boatsincluding 2 pontoons, bass boat and a fish n ski.•    Quiet Waters NOT crowded perfect for ALL Water Sports•    Swimming Pool (Seasonal)
•    Good Fishing – Year Round &  Guide Service Available
•    Pets Welcome/ Additional Fee
Affordable Summer Rates

If you would like more information please call  Toll Free 877-394-7051. We
offer online reservations and more information on our webpage
www.bluewatersresort.net, or send me an email. Live Web Cam – See the Lake and
check out the local weather.
We would love to have you vacation with us
Pam & Harold Malone
Blue Waters Resort
4962 McBride Road
Protem, MO. 65733
Phone 417-785-4375
Want more information www.bluewatersresort.net
Hope to see you soon !
click on link for rates