Big Phil – White River Fishing Report 10/12/10-10/19/10
Big Phil's Guide Service
White River Fishing Report 10/12/10-10/19/10
We at the Mar Mar Resort and Tackle wishing you and yours a great fishing vacation in the Ozarks. Big Phil's Guide Service does guide trips year round. We guarantee you catch fish. All game and fish regulations as well as limits are always observed. To report poaching or Game and Fish issues call 800-482-9262.Be sure of yourself or get a guide. Now is some of the best times to catch world class fish. Call 870-445-4444 for availability, or visit the website at www.bullshoals.com/mamar or email marmarresort@wholedamarea.com .
Pre spawn mode is on. There are multitudes of larger fish coming up river. All of the folks fishing caught their limit and then some.Cleaned to request, whole, skinned, or filleted by their guide. Catch and release tactics were used and any person wanting to take a limit home could. The wonderful weather and the beginning of the fall color changes, along with the continued pattern of low water conditions, it has been very productive and the fly fisherman's delight. With the rising waters in the afternoon comes the opportunity to try different tactics like rouges or countdowns. People have been catching Browns, Brooks, Cutthroat, and Rainbows all week. The lake level on 10/17/2010 was 653.20, below normal pool.. Normal pool is 654.00. With this variance in the generation at the Bull Shoals Dam you need to be aware and be prepared for different water conditions at all times. The number to call for generation report is 870-431-5311. A lot of real nice fish are being caught and it is more important than ever to get a professional guide for the river. They know how to navigate in all water conditions and they know the holes where the fish are stacked. If you have questions call 870-445-4444. Always have personal flotation devices on board and in hazardous conditions they should be worn. Now that we are in range of normal pool we could see some variance in the generation levels. If your not familiar with the river get a licensed/insured guide or guide service for your fishing needs.
Fishing's always good when your with Big Phil .Nice Brown, WHAT A DAY!!
Adrian Yeo of Colorado Springs, CO with a nice Rainbow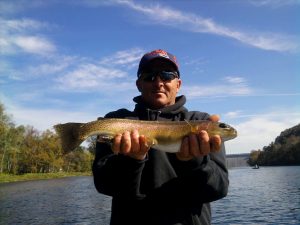 Don't forget to vote on November 2, It's your voice. Let it be heard
Call for 1/2 day specials!!
Listen to KCBN 104.3 Friday mornings around 7:45AM for Big Phil's Live White River Fishing Report with Dr. Dave.
If you are spin casting, With generation, it is a little harder to feel the bite when it occurs as it is a subtle difference When drifting with a river rig keep the slack out of your line to feel it better….your guide can help show you how to maximize your opportunity to catch. Nightcrawlers, Sculpins, Redworms, shrimp, and Bubble Gum Powerbait Worms are getting hit hard and have been the ticket lately. Pink Power bait is starting to do better than the yellow at times, so try it if you want. Some stick baits and Rouges in shad and clown patterns, CD 7's and CD 9's in G, S, BT, and BTR are doing very good. Flatfish in silver, gold or Krocodiles in various colors, Maribu, and Chrome Domes have been catching also. Trophy Browns are being caught at night when the generators are shut down. Come see me for details on this method, J-9 jointed Rapalas, and topwater Rogues and Zara Pups have been doing very good on catching these. Please be aware of your trash. Don't let it float down river. If you do see some please if possible pick it up. Thanks
Fish ON!!
Big Phil
If you are interested in a guide trip please contact…
Mar Mar Resort and Tackle Shop LLC
Big Phil's Guide Service
Bull Shoals Lake, Arkansas
870-445-4444 or 800-287-4204
or E-mail marmarresort@wholedamarea.co